Parent's Guide to Cord Blood, October 2022
Anonymous Parents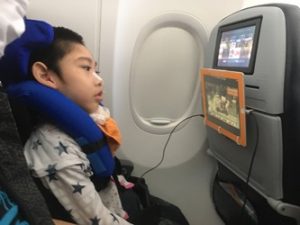 The following story tells the experiences and impressions of a family that stored umbilical cord blood at the StemCell Institute in Japan. Their child received a sibling umbilical cord blood infusion through the Duke University Expanded Access program (EAP).
The patient
Our son was 7 years old at the time of participation in the cord blood therapy. He had suffered a birth injury when he was born after 42 weeks of pregnancy. His oxygen supply was reduced during birth (neonatal asphyxia), and this led to damage in his brain. After treatment in the hospital NICU, he was discharged with a diagnosis of Hypoxic-Ischemic Encephalopathy (HIE). Our son has almost no independent movement, such as rolling over or sitting. Also, he suffers from epileptic seizures.
From enrollment to treatment
We registered our son for the Duke University EAP about three and a half years ago. After that, Duke suspended enrollment in the program due to the COVID pandemic. We also applied for a clinical trial that is being conducted in Japan at Kochi University, but we learned that it would be difficult for us to be selected for the trial due to the epileptic seizures and medical care required. Just as we were feeling down, we received an e-mail from Duke University notifying us of the possibility to participate in the EAP.
After taking the remote screening tests by mail and sending in medical certificates in English, our son was accepted for the EAP. In June 2022, we traveled to Duke University to receive the infusion.
Due to issues with our connecting flight, our arrival in the U.S. was delayed by one day, but the nurse at Duke University talked on our behalf with the doctors so that we could have our initial consultation early on the scheduled day of the infusion, and we were able to receive the infusion on the scheduled day.
Effects of cord blood therapy for HIE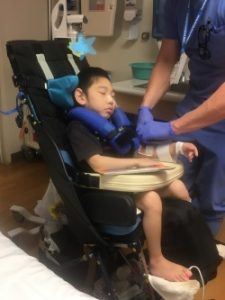 Based on the experiences of others who had gone through regenerative medicine, we kept telling ourselves that our child's disability would not be cured, and that some children did not respond at all. We made an effort to keep ourselves from being disappointed even if there were no improvement or if the epilepsy was slightly exacerbated.
Immediately after the umbilical cord blood infusion, the partial seizures that happened every day stopped completely for approximately 24 hours. The tantrums were also reduced, and he would move his hands while seeming to be deep in thought, so we made an effort to let him touch as many things as possible. There was also less tension in the hip joints.
We had heard that for a while after the infusion, some children would have ups and downs, getting better and getting worse, and that epileptic seizures were exacerbated for some children. Although the epilepsy became temporarily slightly worse, since our son tended to have more severe seizures during growth phases of the brain, we just monitored him without getting overly worried, and it gradually subsided within one week after the infusion.
By one month after the infusion there was clear improvement. Before the umbilical cord blood infusion, while he wanted to move his hands, his entire body would just tense up and grow rigid. However, now he is able to perform gross motor movements. With the walker, he used to just stretch his legs, but he is now trying to figure out how to move, a process of trial and error, while tensing and relaxing his legs. Although he is still unable to move, we see changes that make me think that if we continue with his physical therapy, he may be able to recover his motor functions. It seems that his cognitive functions have also improved, as he shows an increased understanding of what we are saying.
Family impressions of cord blood therapy for HIE
When our son was born and in the NICU, we learned about regenerative medicine using umbilical cord blood. We deeply regretted not preserving his umbilical cord blood when he was born, as we did not know about this therapy at the time of his birth and had discarded it. We were able to properly collect and store his younger sister's umbilical cord blood. But due to COVID it took three and a half years for us to receive treatment after making our decision.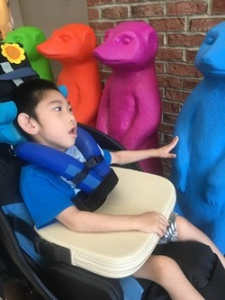 Although we have not seen remarkable changes like his disability disappearing, our son seems happy and excited to see that his arms, which he had persistently been trying to move, tensing up his body, are now able to move if only a little. Even when he is drenched in sweat from the effort, he delightedly tries to move his hands. Our son, who always used to be frustrated, who seemed to think, "I want to do this, but I can't, I can't, my body keeps bending backwards," now has a light in his eyes as he happily realizes, "if you keep trying, sometimes you will succeed". When we see that look on his face, it makes us truly happy that we participated in the EAP.
Reason for undergoing treatment
We have been thinking that some day, when we as parents grow old and are unable to care for our child, we will need to send him out on his own to a welfare facility. When that time comes, we would like for him to be able to use a tablet or other device to communicate with the staff at the facility and tell them when he is thirsty or wants to lie down. We thought that whether or not he is able to do this would have an extremely large impact on the difficulties our son experiences in his life.
However, for him to be able to communicate like this, he would need to have better control of his hand movements and improved cognition. As we have been by his side through his physical therapy and have seen how at the age of 7, he is still hardly able to move his hands, we realized that further development would be difficult. We were worried that if he continued to grow on this trajectory, he would really struggle when the time came for him to be in the care of people other than family.
Even now, after the umbilical cord blood infusion, communicating via a tablet is still an extremely lofty goal for our son, but seeing even the slightest improvement and the possibility of future changes has been a great source of hope.
Source: Parent's Guide to Cord Blood
Link: https://parentsguidecordblood.org/en/news/japan-duke-cord-blood-hie